Group Photo from Jusoor's Startup Roadshow 4 Beirut Demo Day Event Judges giving feedback to...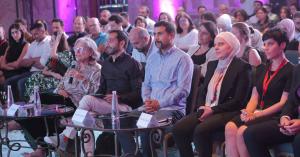 Judges giving feedback to startups during Jusoor's Startup Roadshow 4 Beirut Demo Day
Jusoor's Logo
Following intense competition, three startups based in Lebanon emerged as the winners, surpassing 77 other participating startups.
There are many elements of success; two elements stand out as core to Jusoor's DNA. Relentless optimism, a quality that is essential for our missionö and what we at Jusoor call the multiplier effect"
— Dr. Alexandra Chen
BEIRUT, LEBANON, July 22, 2023/EINPresswire.com/ — Six months after its launch in Jordan and Lebanon, Jusoor's Startup Roadshow 4 comes to an end with a Demo Day in Beirut, where ten startups from Syria and Lebanon competed for the top three places. This competition is Jusoor's fourth iteration of the Roadshow in partnership with SPARK, it also marks as Jusoor's biggest and most advanced competition to date.
The judging committee, investors, and regional business incubators and accelerators witnessed the pitches of the 10 finalists, who vied for seed fund prizes. Among them, three ambitious entrepreneurs and startups hailing from Lebanon and Syria emerged as the top winners.
The Demo Day that took place on July 06 in Beirut also welcomed more than 80 audience members from startups, investors, regional business incubators, and representatives of  accelerators and industry experts from the private and public sectors.
The event started with the Lebanese National Anthem, followed by opening speeches from Dr. Alexandra Chen, Jusoor's Trustee, and Interim Executive Director, introducing Jusoor and our beliefs in fueling the rising entrepreneurs; and Ziena Abu-Dalbouh, Jusoor's Head of Entrepreneurship summing up the project impact on the lives of thousands in Lebanon and Jordan.
"There are many elements of success; two elements stand out to me as core to Jusoor's DNA. The first is relentless optimism, a quality that is essential for our mission. The second is what we at Jusoor call the multiplier effect, which is our belief that each student, teacher, parent, scholar, and entrepreneur that we work with is a powerful catalyst of change for their family, community, country, and generation if only we capitalize on this potential" said Dr. Alexandra Chen.

‍

The Startup Roadshow 4 Journey
Jusoor's Startup Roadshow 4, which received co-funding from SPARK, the Islamic Development Bank, and Abdul Aziz Al Ghurair Foundation, commenced its fourth edition in late 2022. The roadshow featured a series of in-person hackathons held in Jordan and Lebanon, with a particular emphasis on the cities of Irbid, Amman, Tripoli, and Beirut. Over 263 aspiring entrepreneurs from Syria, Jordan, Palestine, and Lebanon gathered at these hackathons to acquire knowledge, forge connections, and receive valuable guidance and mentorship in establishing and expanding their own businesses. The training encompassed diverse areas such as product and application development, financial modeling and forecasting, sales and digital marketing, legal registration, and investor presentation.
Following the hackathons, the top 85 teams from both countries were chosen to enter the incubation phase of the program, where they received specialized training and mentoring. This phase served as a crucial stepping stone for many young entrepreneurs, particularly those from marginalized communities, as they embarked on their entrepreneurial journey for the first time. It also provided them with opportunities to engage with potential investors and partners. Over the course of this program, participants benefitted from more than 670 hours of comprehensive training sessions, covering technology tools and mentorship.
On July 6th, 2023, the panel of judges witnessed the business pitches of the top 10 teams, ultimately awarding cash prizes to the three most outstanding teams. The first-place team received $7,000, the second-place team received $5,000, and the third-place team received $3,000.
"What we witness today is the outcome of a process in which more than 175 trainers, mentors, service providers, and team members have been involved." Ziena Abu-Dalbouh, Head of Entrepreneurship.
We extend our heartfelt congratulations to the winning teams, Exotech (first place), Liber (second place), and Ejit El Kahraba (third place), for their exceptional dedication and remarkable efforts in driving their businesses towards success. We applaud their determination to go above and beyond in pursuit of their goals. We would also like to congratulate all the teams that have reached this significant milestone, recognizing their hard work, accelerated growth, and remarkable development showcased throughout this transformative journey. Additionally, we congratulate the two startups, Rollercoaster Edu and Ejit El Kahraba for winning the top two awards in the Innovative Scientific Entrepreneurship Award given by the Syrian Society for Scientific Research.
We take pride in the success of Startup Roadshow 4 in empowering entrepreneurs from Syria, Jordan, Palestine, and Lebanon to turn their ideas into reality. We express our sincere gratitude to our esteemed judges, Asmahan Zein, Fawzi Rahal, and Mohammad Mouawiya, for their valuable contributions and notes that they give to the audience and participants. Special thanks are also extended to our panelists, Zakie Karam, Angel Investor at IM Capital and Co-founder & General Manager at DON Telecom, Rasha Manna, General Manager at Flat6labs Jordan, and Dania Ismail, Jusoor Co-Founder & Board Member, for their insights during the panel discussion on 'Venture Finance Post Incubation' were invaluable. We would like to acknowledge the enduring partnership with SPARK, which has enabled us to bring ideas to life since 2018, and for that, we are truly grateful.
Mahmoud Tahan
Jusoor
+90 534 618 69 51
[email protected]
Visit us on social media:
LinkedIn
Instagram
Facebook
Twitter
YouTube
TikTok
Startup Roadshow 4 Beirut Demo Day Live Stream


Article originally published on www.einpresswire.com as 3 Startups in Lebanon Win Seed Funds During Jusoor's Startup Roadshow 4 Demo Day
originally published at HUMAN RIGHTS - USA DAILY NEWS 24