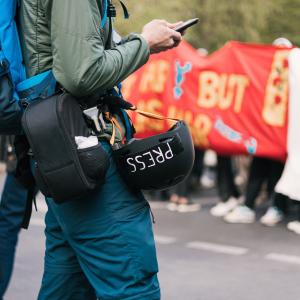 Journalists need digital security, just like physical protection, to stay safe. Myntex Logo Myntex offers...
Myntex offers ChatMail on Renati for free to journalists and funds for organizations.
When we saw the raw deal journalists are getting with the new anti-privacy proposed laws in Europe, that allow spying and interception on phones, we just had to do something about it."
— Myntex President and CEO Geoff Green
CALGARY, ALBERTA, CANADA, September 12, 2023/EINPresswire.com/ — The UK's Online Safety Bill, which effectively creates a backdoor to encryption, and proposed regulations elsewhere underscore the urgency to protect the privacy of investigative journalists, their teams, and sources.
Myntex Inc., an industry-leading secure mobile solutions developer, wants to help. To this end, Myntex® created a program for journalists with 200 free licenses to use its trusted end-to-end encrypted phone suite, ChatMail, on the resilient new revolutionary mobile OS, Renati. Teams of 2–10 contacts can apply. Qualifying cohorts worldwide will experience mobile communication confidentiality and security, free of charge, for 3-months.
Surveillance, spyware, phishing, and malware targeting journalists jeopardize their safety. The device hardening features of ChatMail paired with the fully locked-down ecosystem of Renati mitigate these threat vectors and stop location reporting. ChatMail on Renati is certified against physical extraction.
A fundraising component is included in the program. A donation of $100 CAD per activated license will be given to the applicant's choice of Amnesty International; Citizen Lab; Forbidden Stories; International Center for Journalists; or Reporters Without Borders. An advocate for strong encryption and the right to privacy, Myntex stands aligned with non-governmental organizations committed to digital privacy and security. These five NGOs were selected to support their projects that help to protect journalists.
Geoff Green, Myntex CEO and Chief Systems Architect empathizes with these vulnerable investigative teams. "When we saw the raw deal journalists are getting with the new anti-privacy proposed laws in Europe, that allow spying and interception on phones, we just had to do something about it. Security is critical for journalists and their sources." Green emphasized, "ChatMail on Renati provides security-first protection and privacy. It even blocks Pegasus and similar exploits."
To qualify, applicants must provide a link showcasing their body of work as investigative journalists. Also required is a compatible OEM unlocked Pixel phone, a computer, and a secure internet connection.
By following Myntex or ChatMail on social media and providing their relevant account link, the company will be able to authenticate applicants. A welcome email will be sent to journalists who are accepted into the program, providing a unique link to the web installer for Renati OS and instructions to simplify the setup of the device and deployment of ChatMail®.
The journalist program is open through December 2023 or until capacity is reached. Apply now.
(###)
About Myntex
The global mobile data protection market is expected to reach $13.6 B in 2027. Myntex occupies a niche as the developer of ChatMail and Renati. The company also owns and operates a private, on-site custom data center. Confirmed reliability has made Myntex Canada's largest provider of end-to-end encrypted phone solutions.
Myntex is redefining privacy through technology with an innovative vision for secure communications. Established in 2010, Myntex flourished in its field. Founded as a tech start-up by President and CEO Geoff Green and COO Chantel Duplantie—offering PGP encrypted email solutions from Canmore, Alberta—Myntex opened its high-tech Calgary headquarters in 2016.
Myntex is on a mission to provide the definitive offering and security performance of encrypted phones.

Certified Partners oversee global distribution in 180+ countries, managed locally by 150+ ChatMail resellers.
An ardent supporter of global efforts to protect the fundamental human right to privacy, Myntex stands against efforts to undermine encryption in our actions, advocacy, and affiliations. Educating the public in this regard through our blogs and social media is an important pillar of our business. See how we're effecting change by visiting us at myntex.com
Chantel Duplantie
Myntex Inc.
+1 866-473-5440
[email protected]
Visit us on social media:
Twitter
LinkedIn
Instagram
YouTube
Other


Article originally published on www.einpresswire.com as A Program for Journalists to Experience Mobile Security
originally published at HUMAN RIGHTS - USA DAILY NEWS 24