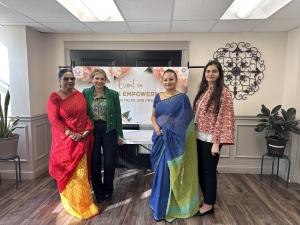 AMMWEC and NEBAF Come together to serve women Farhana Khorshed, Executive Director of NEBAF Audience...
WASHINGTON DC, DISTRICT OF COLUMBIA, UNITED STATES, October 4, 2023 /EINPresswire.com/ — AMMWEC board member, addiction expert, DR. SABEEN MUNIB, ADDRESSES MULTIPLE DRUG ABUSE ISSUES AT WOMEN'S HEALTH FORUM in Cambridge, Massachusetts –
The Ammwec and Nebaf Women's Health Forum served as a platform for open discussions and innovative solutions, showcasing the power of South Asian and multifaith women's collaboration.
Dr. Sabeen Munib, an esteemed expert on drug abuse, educated the audience about the various forms of drug abuse. Dr. Munib shared her journey as a physician to becoming an expert on addiction in the prison system. Dr. Sabeen Munib's passionate discourse shed light on the wide-reaching implications of drug abuse, inspiring attendees to initiate vital conversations within their respective communities.
"Parents often wonder what they did wrong that their child started doing drugs," she said. "If you suspect your child of being involved in drugs, get help," she explained.
The forum also explored various pressing issues such as domestic violence, discrimination, hate speech. Anila Ali, founder of AMMWEC, reminded women of ensuring that their voices are not silenced and that they are full participants in community and faith-based organizations. She recalled the struggle of many Muslim women who have harassed and intimidated by male patriarchy within their organizations and the perpetrators of abuse are not held accountable.

"The time has come for us to ensure our next generation of girls can lead without fear," said Ali.
Recognizing the need to address these often overlooked topics, the Women's Health Forum by AMMWEC and NEBAF welcomed partners such as the Asian Task Force, Saheli, and Combat Antisemitism, all working to build better and safer communities. . The participants were Americans from all backgrounds, such as Bangladeshi, Indian, Pakistani, and Nepali American women and represented a variety of faiths such as Muslim, Christian, Jewish, Hindu, Sikh, Buddhist. Members from Asian Task Force and Saheli also highlighted their shared commitment to addressing women's issues in their communities.
By confronting these issues head-on, the Women's Health Forum aims to contribute to the well-being of American communities and foster a supportive environment for individuals of diverse backgrounds.
Executive Director of New England Bangladeshi American Foundation, NEBAF shared her organization's role in supporting women victims of abuse, homelessness and poverty. Cambridge City Council member, a young Pakistani American, Burhan Azeem, also joined the forum to show support for women.
"NEBAF has served the community for years, and now has a youth Ambassador program to prepare the next generation of women leaders," she said.
The Ammwec organization takes pride in its commitment to addressing societal issues that are often cast aside. Through the Women's Health Forum and interfaith collaboration, Ammwec continues to bring communities together to strengthen America. For more information about Ammwec and its initiatives, please visit www.ammwec.org

[email protected]
Staff Writer
Ammwec
+1 202-600-5186
email us here
Article originally published on www.einpresswire.com as AMMWEC and NEBAF Address Mental Health Issues for Women in Cambridge, MA
originally published at HUMAN RIGHTS - USA DAILY NEWS 24