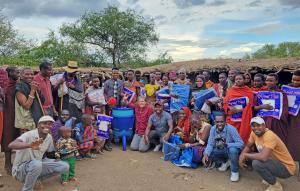 Georgia Evans of Village Care Project help a Massai Village obtain clean water and malaria...
Helping village people, one village at a time.
LOVELAND, CO, UNITED STATES, September 11, 2023/EINPresswire.com/ — Village Care Project announces that it has 2 openings for volunteers on the next clean water and malaria prevention project to help remote villages in Tanzania, Africa on April 30th – May 9th, 2024.
While on a photo trip to Tanzania, Georgia Evans, founder of Village Care Project, was totally shocked by the filthy drinking water that she saw African women collecting for their families from a pond. She decided to return and to do something about it. Georgia raised money, hired local African men, and returned with water filters and mosquito nets. She educated, assembled, and demonstrated these tools to each woman. The personal project became a nonprofit and grew from there.
No experience necessary to join and no heavy lifting.
Volunteers will help distribute and teach villagers how to use and maintain lifesaving tools:
• Clean Water Filters. The village women gather water from literally any place they can find it and it is filthy! These water filters remove 99% of all waterborne diseases from their drinking water like deadly cholera, E Coli, dysentery, and giardia.
• Mosquito nets: When the sun goes down, the mosquitoes come out. These bed nets literally save lives by preventing malaria, especially in children. Some women will not even give their child a name until they survive to age 5 due to high malaria deaths.
• Large heavy-duty roof tarps to cover the thatch and mud huts keeps villagers warm, dry, healthy, and happy.
• Solar lanterns that get power from the sun and help light up their homes when the sun goes down. Waterproof and no batteries or electricity required. The gift of light!
Amazing cultural exchange for people who want to give back to the world and love helping others! Wonderful photo opportunities of wildlife and indigenous African villages.
Volunteers will be helping almost 1000 people acquire lifesaving tools to stay healthy and improve their quality of life. Trip cost is $5000. For details and what is included / excluded go to villagecareproject.com/volunteer
Georgia Evans
Village Care Project
+ 19706637492
email us here
Visit us on social media:
Facebook
Twitter
LinkedIn


Article originally published on www.einpresswire.com as International Volunteer Opportunity in Tanzania, Africa
originally published at HUMAN RIGHTS - USA DAILY NEWS 24