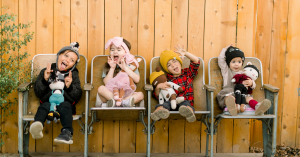 Red & Olive Co. is a fair trade doll and accessory brand. Handmade Heirloom Dolls...
Handmade Heirloom Dolls that Grow with Your Children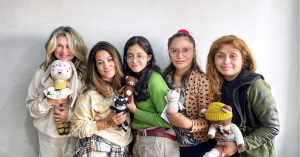 Meet the talented artisans behind Red & Olive Co.'s creations – crafting smiles, one doll at a time
Red & Olive Co. Unveils New Handcrafted Dolls and Accessories Collection, Fair Trade, Inspiring Creativity and Cultural Connections in Children"
CALIFORNIA, UNITED STATES, October 4, 2023 /EINPresswire.com/ — Red & Olive Co. is excited to introduce its new collection of carefully handcrafted dolls and accessories. These creations are designed to be lifelong friends for children, created with love and artistry by our founders, Lita and Destiny a stepmother and daughter duo.
Red & Olive Co. is a fair trade doll and accessory brand. We are a minority women-owned and operated company that strives to inspire creativity, curiosity, and bravery in children, both now and in future generations. As a Peruvian & American step-mom and daughter, we spend every day designing ways for children to connect with our rich cultural influences. We blend traditional art forms with the latest fashion trends. Red & Olive Co. was born out of passion, risk-taking and a whole lot of love.
We're also committed to giving back globally. Red & Olive Co. has partnered with the Starlight Children's Foundation, pledging to donate 10% of our sales to support seriously ill children in the United States.
Just in time for the Holidays, we're excited to introduce new editions of our popular Match Me Set and Holiday Babies in October.
Red & Olive's handmade dolls make timeless gifts, perfect for baby showers, birthdays, holidays, or any special occasion. Explore our collection to find the perfect companion for your child.
Media professionals are invited to request samples for upcoming Winter features and Holiday gift guides. We're eager to connect with you and share the inspiration behind Red & Olive Co. We look forward to your response.
Thank you,

Destiny Conner and Lita Barreda
About Red & Olive Co.: Red & Olive Co. creates lasting friendships between children and their cherished stuffed companions. Our handcrafted dolls blend American design with Peruvian artistry, capturing the essence of childhood.
Fostering Imagination: Our mission is to nurture imagination and emotional support through play. From petite 7″ dolls perfect for tiny hands to stunning 22″ dolls with matching accessories, our creations bring magic and joy to children and artisans alike.
Fair Trade, Fair Hearts: We prioritize fairness and ethics, empowering craftspeople with fair wages and flexible schedules. Red & Olive Co. is committed to breaking the cycle of poverty and uplifting communities.
Join us in this enchanting journey where every stitch tells a story of imagination, friendship, and love.
Discover the magic of Red & Olive Co. today.
reD & olive

1314 Conway Ave, Costa Mesa CA 92626

714.329.3126

[email protected]

https://redandoliveco.com
Destiny Conner
Red & Olive Co
+1 714-329-3126
email us here
Visit us on social media:
Facebook
Instagram
TikTok
Red & Olive Co About Us


Article originally published on www.einpresswire.com as Introducing Red & Olive Co. : Handcrafted Companions bringing joy around the world
originally published at HUMAN RIGHTS - USA DAILY NEWS 24