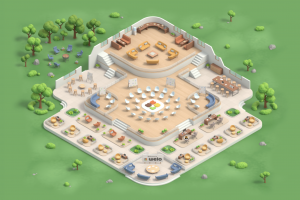 RewireHub HQ RewireHub Client Zone CEO's Room UAE-based RewireHub pioneers a Metaverse office, enhancing collaboration...
UAE-based RewireHub pioneers a Metaverse office, enhancing collaboration and client interaction, whilst prepping for Blockchain and AI services launch.
DUBAI, UNITED ARAB EMIRATES, July 23, 2023/EINPresswire.com/ — RewireHub, a UAE-based digital marketing agency, has taken a decisive stride toward the future with the launch of a fully integrated metaverse office. This ground-breaking move is a first in the GCC/UAE, making RewireHub one of the few companies worldwide to take such a leap.
The Metaverse office is more than just a workspace. It is a transformative digital environment, expanding the scope of possibilities for the agency's remote teams and its clients. In the metaverse, geography becomes irrelevant. A client in Dubai can interact as effortlessly with the team as a team member located in Sri Lanka.
Muddashir Siddique, CEO/CMO of RewireHub, commented on the move. "At RewireHub, we have always embraced innovation and progressive work models. The Metaverse office reflects our commitment to leveraging pioneering technology. It represents a shift in the way we think about space and collaboration."
The Metaverse office will serve as a platform for not only daily operations and team collaboration but also for client meetings, webinars, online events, meetups, and more. This digital platform brings a new dimension to interaction, opening doors to immersive, engaging experiences that were previously beyond reach.
In the wake of this development, RewireHub is also gearing up to launch comprehensive Blockchain and AI development services in the coming weeks. This aligns with the agency's philosophy of staying ahead in the rapidly evolving digital landscape and its mission to continually enhance the solutions it offers to its clients.
"We recognize the transformative power of AI and Blockchain," Muddashir said. "In a few weeks, we will start offering these solutions, equipping businesses to stay at the forefront of the digital revolution."
The introduction of a metaverse office and the forthcoming Blockchain and AI solutions signal a new phase for RewireHub. It demonstrates the agency's commitment to pushing the boundaries of what is possible, innovating consistently, and delivering unparalleled value to its clients.
About RewireHub:
RewireHub is a digital marketing agency based in the UAE, with remote teams spread globally. The agency specializes in harnessing advanced technologies like AI and Blockchain, providing an extensive range of marketing solutions and services to its clients.
For more information, visit https://www.rewirehub.com.
Nishwath Abdullah
RewireHub
+971 52 614 6328
[email protected]
Visit us on social media:
Facebook
Twitter
LinkedIn
Instagram
YouTube
TikTok
Tired of Being Invisible? Time to Dominate with Rewirehub!


Article originally published on www.einpresswire.com as RewireHub Launches Metaverse Office: A First for Digital Marketing in the UAE
originally published at HUMAN RIGHTS - USA DAILY NEWS 24