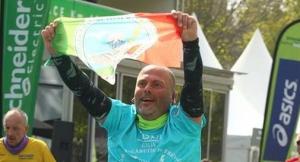 Toni Venturato in Paris's marathon Toni Venturato Toni Venturato at NY marathon in 2022 Running...
Running Beyond Limits: Toni Venturato Takes to the Streets of New York, Wearing the Names of 100 Heroes.
If I Dream at Night, I Dream of Being a Marathon Runner."
— Eugenio Montale – Nobel
MONTEBELLUNA, TV, ITALIA, October 27, 2023 /EINPresswire.com/ — Amid the throngs of runners taking on the streets of New York on Sunday, November 5th, there's one who was specifically chosen to be there. Toni Venturato is not just another AWD participant, but an athlete running the New York Marathon in acknowledgment of his exceptional athletic and human merits. After a harrowing motorcycle accident, instead of giving up, Toni penned a biography. And with a heart of gold, he chose to donate all proceeds from its sales to aid children with cancer from impoverished families.
Despite the numbness in his legs, Toni found an inner strength to keep running. By his side, as his guide and pillar of support, is his invaluable wife, Raffaella, always ready to step in when needed. Just two weeks ago, he ran the Venice Marathon and has participated in countless marathons across the globe.
This year's eye-catching feature comes from a shirt: printed on it are the names of 100 individuals, each representing a personal battle against life's hardships: illnesses, cancer, depression. These aren't just names; they are stories of resilience, determination, and bravery. Toni runs wearing this shirt not only as a tribute to these individuals but also as a tangible symbol of how sports can be a medium to voice human challenges and the stories of those who fight daily. Last year too, New York embraced Toni with warmth and excitement. Along the route, fans rallied by his side, cheering him on with incessant chants of "Go Toni!" Yet, Toni's story isn't confined to New York's streets. When he's not running, he travels Italy, spreading his message about how sports can be a tool to overcome life's adversities. He especially encourages the youth to shape their destiny with bravery, character, and resolve. And one must not forget his past as a soldier in the Folgore, a paratrooper – an experience that surely instilled in him the determination and discipline he showcases in epic marathons today.
The lights of the Big Apple shine brighter, illuminating the path of a man who shows each of us that the true victory isn't in the finish but in the courage to embark on the journey. Toni, a beacon of hope and dreams, reminds us that every step, every breath, every drop of sweat tells a story of tenacity and a love for life. And in these stories, we find a bit of ourselves, our humanity, our unstoppable desire to keep moving forward, no matter what.
Antonio Venturato
PAPA ALESSIO
email us here
Article originally published on www.einpresswire.com as THE NEW YORK MARATHON WITH THE HEARTS OF 100 HEROES
originally published at HUMAN RIGHTS - USA DAILY NEWS 24