DEEP Arts Resumes "Moses Man Finding Home" Journey at Holocaust Sites in Poland & Austria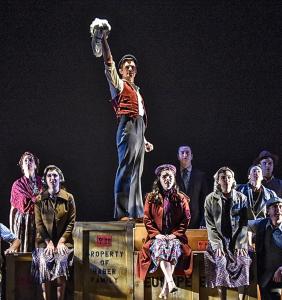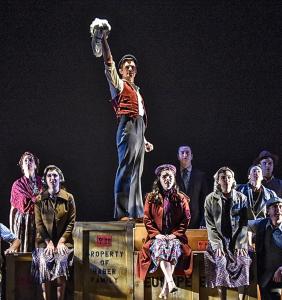 Moses Man Finding Home NYC debut in 2015 at Signature Theatre, credit DEEP Arts After...
After a COVID-related delay, DEEP Arts' "Moses Man Finding Home" project continues its mission to connect forced displacement of the past with the present.
Just as my parents did, refugees are fleeing the homes they love in order to stay alive. Moses Man: Finding Home links past and present to shine a light that 'Never Again' is truly 'Never Ending.'"
— Deborah Haber, DEEP Arts
ROCHESTER, NY, UNITED STATES, October 26, 2023 /EINPresswire.com/ — There are currently more than 100 million refugees and forcefully displaced people in the world – a number that rises daily. The tragic upheaval and innocent suffering in the Middle East today make Moses Man Finding Home's mission to shine a light on global displacement even more significant.
The ever-evolving project began as a musical written by DEEP Arts Founding Executive Artistic Director Deborah Haber and award-winning composer/producer Casey Filiaci, which made its NYC debut in 2015 at NYC's Signature Theatre.
Moses Man's subject is the nine-year journey of Haber's late parents, Holocaust survivors Lily and Kalman Haber, from Vienna, Austria in 1938 to freedom in the U.S. The project now includes multi-Emmy Award-winning filmmaker Dave Marshall from Blue Sky Project, who is chronicling its progress as well as survivor testimony and on-site visits.
From November 8-16, the three will continue a journey they began in March of 2022 in Berlin, Germany, where they participated in Indiana University's European Gateway Symposium on the Displacement of Peoples Between Africa and Europe.
"Volunteering at a Ukrainian refugee site while we were there was an unforgettable experience," says Haber. "COVID-19 prevented our continuing on to Vienna at that time. We're so fortunate that everything could be rescheduled."
In Vienna, the team will film at locations depicted in the musical including Gedenkstätte Karajangasse Memorial, where Kalman Haber was interrogated by Adolf Eichmann, and Stadttempel Synagogue, where Kalman and Lily participated in a rushed mass wedding. Additionally, the school that houses the aforementioned Memorial – Gymnasium am Augarten – has partnered with DEEP Arts to present several multimedia programs for upper-level students. Included will be moving audio testimony from Kalman and video testimony from Lily, who was Rochester's oldest Holocaust survivor when she died in 2020 at the age of 101. Currently, the school has a high percentage of immigrants from Afghanistan, Syria, Ethiopia and Iran, and several classes will participate in an international art project called "Moses Man Finding Home: Through the Eyes of a Child" to express their own experiences or interpretations of displacement. Those artworks will then be part of future exhibitions at Indiana University, in New York City and in Rochester, NY.
"The collaboration between our school and the DEEP Arts project on forced migration gives our students a chance to connect the present with the past," states Gymansium am Augarten Headmaster Árpád Krämer. "The necessity of that kind of work is as relevant as ever."
Prior to Vienna, the team will visit Rochester's Sister City, Krakow, Poland, where they plan to work with Friends of JCC Krakow to connect with young Ukrainian refugees interested in participating in the art project. Then, they'll tour the Auschwitz-Birkenau Memorial and Museum, the former German Nazi Concentration and Extermination Camp. Haber's uncle, Alfred Juffy, was murdered at Auschwitz, and his journey is depicted in Moses Man through the song "I Won't Disappear."
"Just as my parents did, refugees are fleeing the homes they love in order to stay alive, not knowing what the next day will bring. 'Moses Man: Finding Home"s mission to link past and present shines a light that 'Never Again' is truly 'Never Ending,'" adds Haber.
"Moses Man Finding Home" has received international, national and local support, including a Certificate of Special Congressional Recognition from U.S. Congressman Joseph Morelle. Funders for the project include the National Fund of the Republic of Austria for Victims of National Socialism; Indiana University Institute for European Studies, a Jean Monnet European Union Centre of Excellence; IU Jewish Studies Program; New York Council on the Arts; The Farash Foundation; Rochester Area Community Foundation; JCC of Greater Rochester; and the Jewish Federation of Greater Rochester.
DEEP Arts (Develop, Explore, Enrich, Perform) – originally founded as Rochester Children's Theatre in 1991 – is a 501 (c) 3 non-profit arts organization whose mission is to develop and present new works that include education and outreach. It has a long history of creating multi-arts presentations, curriculum-based study guides and artist residencies, and has received considerable support from major funders including The National Endowment for the Arts.
Media, please note: interviews may be arranged. High-resolution photos and other assets are available here: https://www.dropbox.com/scl/fo/vbo8kfx6d2uvfyn4roei0/h?rlkey=s5f3fvof6ta36vg9l83rjzedt&dl=0
Sally K Cohen
DEEP Arts
+1 585-749-1795
[email protected]
Visit us on social media:
Facebook
Instagram
About Moses Man Finding Home by DEEP Arts & Blue Sky Project


Article originally published on www.einpresswire.com as DEEP Arts Resumes "Moses Man Finding Home" Journey at Holocaust Sites in Poland & Austria
originally published at HUMAN RIGHTS - USA DAILY NEWS 24