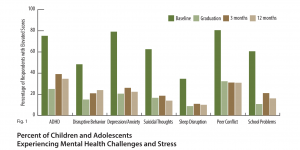 Percent of Children and Adolescents Experiencing Mental Health Challenges and Stress Overtime Majority of participants...
With a strong emphasis on deep family involvement and rigorous, data-driven methods, Trails Carolina is setting new standards in nature-based therapy.
98.9% of participants reported significant improvements in challenging behavior and mental health symptoms one year after graduating from Trails Carolina."
— Trails Carolina White Paper
LAKE TOXAWAY, NC, UNITED STATES, November 16, 2023 /EINPresswire.com/ — Trails Carolina Wilderness Therapy Program is proud to announce the publication of a white paper presenting the results of a decade-long pioneering research initiative that sheds light on the remarkable therapeutic effectiveness of their program for youth, adolescents, and their families.
With a strong emphasis on deep family involvement and rigorous, data-driven methods, Trails Carolina is setting new standards in nature-based outdoor therapy.
Research Collaboration and Methodology
Since launching its research initiative in 2014, Trails Carolina has enrolled approximately 1,200 families in an extensive study conducted in collaboration with the Center for Research, Assessment, and Treatment Efficacy (CReATE) and the University of Arkansas.
The program's focus on utilizing evidence-based therapies in a hybrid wilderness and base-camp model, combined with intensive family engagement, sets them apart in the field.
Notably, Trails Carolina has been recognized as a Research Designated Program (RDP) by the National Association of Therapeutic Schools and Programs (NATSAP) each year since the inception of this designation, affirming their commitment to evidence-based practices, quality control, and decision-making rooted in research.
Comprehensive Findings and Assessment Process
The recently released white paper presents comprehensive findings from the research center, examining whether children, adolescents, and families experience therapeutic improvements during their time at Trails Carolina and whether these improvements endure after program graduation.
The study is Institutional Review Board (IRB) approved and includes a thorough assessment featuring standardized instruments that gauge child, adolescent, parental, and family functioning.
This assessment encompasses mental health, skill acquisition, family functioning, and treatment satisfaction. Importantly, it incorporates feedback from the children/adolescents and their parents, providing a comprehensive view of the participants' progress.
Key Findings and Challenges Faced
Key findings of the research indicate that youth and adolescents admitted to Trails Carolina previously faced significant mental health challenges and environmental stressors.
For example, 80% of participants had clinically elevated symptoms of anxiety and depression upon enrollment. Additionally, 75% presented with significant symptoms of ADHD, and 63% experienced suicidality. Moreover, disruptive behavior, school-related problems, and sleep disruption were common issues.
Positive Impact of Trails Carolina's Therapeutic Approach
The data from the study underscores the positive impact of Trails Carolina's therapeutic approach. The research reveals that youth and adolescents demonstrated considerable improvements during their time in the program, which continued for an entire year after graduation.
Furthermore, the study shows that the improvements extend beyond just the participant, with family communication and satisfaction significantly improving while students participate in the program.
One remarkable statistic is that 98.9% of participants reported significant improvements in challenging behavior and mental health symptoms one year after graduating from Trails Carolina. This outcome can be seen in students who return home and those who continue to longer-term care.
Decade-Long Commitment and Implications
In summary, Trails Carolina's decade-long commitment to providing research-informed clinical services has yielded impressive results. Their therapeutic program is demonstrated to be highly effective in helping adolescents, teens, and their families overcome significant mental health challenges and behavioral issues, improving their overall well-being. These findings emphasize the critical need for innovative and evidence-based approaches in addressing the growing crisis of youth mental health.
For more information about Trails Carolina and their groundbreaking research or to obtain a copy of the white paper, please contact the admissions team at [email protected].
About Trails Carolina:
Trails Carolina, founded by Graham Shannonhouse and based out of North Carolina, is an outdoor behavioral healthcare program for kids and teens ages 10-17 led by trained wilderness staff members and licensed therapists. The therapeutic wilderness program integrates wilderness therapy, mindfulness techniques, equine relational therapy, intentional transitions, academic engagement, and parent education to support families through the process of reconnecting and healing.
Demonstrating a commitment to comprehensive care, Trails Carolina seamlessly integrates diverse therapeutic modalities. A foundational element of the therapeutic wilderness program involves intentional transitions between the outdoor setting and a supportive residential base camp facility, helping students through the process of building resilience and healthy coping skills. This carefully orchestrated shift is designed to provide participants with a well-rounded therapeutic experience.
Individualized treatment plans at Trails Carolina are meticulously crafted by licensed therapists, incorporating evidence-backed therapeutic methods such as Cognitive Behavioral Therapy (CBT), Eye Movement Desensitization and Reprocessing (EMDR), and Dialectical Behavior Therapy (DBT). Mindfulness practices are interwoven throughout the program, equipping participants with valuable tools for emotional regulation and stress reduction.
Therapeutic horsemanship emerges as a distinctive feature, enhancing the overall therapeutic experience by engaging participants in meaningful interactions with horses. These interactions are purposefully structured to improve communication skills, build trust, foster healthy relationships, and cultivate emotional awareness.
Trails Carolina's deliberate inclusion of such diverse therapeutic elements reflects a profound understanding of the multifaceted needs of adolescents on their transformative journey toward well-being. The program's tailored, trauma-informed, and holistic approach underscores its dedication to nurturing the mental, emotional, and relational growth of each student and their families.
About the Center for Research, Assessment, and Treatment Efficacy (CReATE):
CReATE is a clinical service and psychological research organization based in Asheville, NC. They provide data-driven assessment and evaluation, empirically-supported mental health treatment, and bridge the gap between science and practice.
With a focus on data-driven assessment and evaluation, CReATE employs rigorous methodologies to enhance the precision of mental health treatment efficacy measurements. Emphasizing empirically-supported interventions, the organization ensures that individuals benefit from the latest evidence-based practices.
Notably, CReATE serves as a vital link between scientific knowledge and clinical practice, facilitating the seamless integration of research findings into real-world mental health interventions. Though located in Asheville, CReATE's commitment extends beyond its immediate surroundings, actively shaping the landscape of mental health care through ongoing research, collaboration, and the dissemination of knowledge.
Julia Andrick
Trails Carolina
[email protected]
Visit us on social media:
Facebook
Twitter
LinkedIn
Instagram
YouTube
"Knowing I can do hard things" – Reflections About the Program from a Trails Carolina Student


Article originally published on www.einpresswire.com as Trails Carolina's Research Reveals Long-Lasting Therapeutic Benefits for Adolescents
originally published at HUMAN RIGHTS - USA DAILY NEWS 24